saab engine and gearbox request form
You're looking for a saab engine or gearbox ?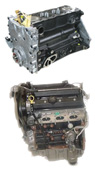 RbmSaabParts.com offers the most important choice of brand new or second hand saab engines and gearboxes.
Every used engine or gearbox is tested or revised and has a 4 months to 6 or even 12 months warranty!
SAAB Engines and Gearboxes are available for saab 900 OG and 900 NG but also saab 9000, saab 9.3 OG and lastest 9.3 SS models and saab 9.5 models.
Secure shipping by sea or by plane is available everywhere to the USA and Canada.
You need to know if your engine or gearbox is available and its price, just use the following form (e-mail reply within 24hours)